If there can be a good thing about the weather getting cooler, it's that it means that Fall television programming is back and all my favourite shows have returned! I'm a sucker for a good (or even bad) TV show, so here's what's set to record on our PVR this season:
This Is Us
There is no better story than the one of Jack, Rebecca, Kevin, Kate & Randall. I've loved this show since Day 1 and so far every single episode has made me feel all the feels in some shape or form. A bonus for this season so far is that it has yet to make me cry, which is great because the last couple of episodes from last season were doozies. This Is Us is definitely great at leading us on too – I mean, what's going on with "Old" Randall? Who's he going to see? Beth? Kate? WHAT IS HAPPENING? The writers are friggin' brilliant and this show just kills me with suspense.
Lethal Weapon
Lethal Weapon is a show that Kyle and I watch together as loyal fans of the movie series starring Danny Glover and Mel Gibson. While there's definitely some things we aren't keen on in the TV series because of our loyalty to the movies, it's still a fairly decent show. We are, however, a little skeptical of Sean William Scott taking over as Damon Wayans' co-star after Martin Riggs was killed off. (How DARE they, IMHO, because there is no Murtaugh without Riggs.) This was because Clayne Crawford was essentially fired from the show. Anyway, we'll see how things pan out this season, although I don't think it will last very long without Riggs.
Grey's Anatomy
For the past couple of years, every new season that starts I think to myself, "This is going to be the last one," but so far I'm been so wrong. While the show has become a little repetitive and some of my favourite characters are long gone (Christina Yang and Derek Shepherd), I still love the cast and the show as a whole. I think I've rewatched it twice on Netflix during the off season. So far this season has been pretty drama-free, so I'm curious to see where it goes, especially since April and Arizona are no longer there. Oh, and I'm looking forward to seeing what happens with the Owen/Amelia/Teddy situation goes and if Meredith finds love again. (Because she was SO close with Nathan Riggs and I'd rather see this new ortho guy Linc or whatever just go back to the beach and no return.)
Station 19
I was a fan of the last Grey's spinoff, Private Practice, so I thought I'd give Station 19 a try. It's dramatic enough to keep me watching, but without being over the top. Plus it gets bonus points to crossing over slightly with Grey's because of Ben Warren. (Who, I think, is the most wishy-washy person ever when it comes to picking a career.) Last season ended with a massive tower fire and we were left hanging to see who survived, and I've yet to watch the premier that aired last night. I can't see Station 19 having the longevity that Grey's does, but it's still a decent show to kill some time with.
The Big Bang Theory
Complete honesty time: I was just about to cancel the series recording on my PVR for The Big Bang Theory but when I learned that this will be the last season I opted to persevere and see things out. Everyone appears to have grown up and matured on the show and episodes were starting to get a little dry/repetitive, so I really think it's a perfect time to wrap things up. My prediction for the end of the series? Raj finds his true love, Penny and Leonard split, and everyone else keeps on keeping on. Maybe Sheldon and Amy will move somewhere. I'm curious to see what will actually happen!
Forged in Fire
This is another show Kyle and I watch together, and while it's not your typical reality/competition show (i.e., it's not a cooking competition) it's really interesting to watch. In a nutshell, Forged in Fire is a knife-making competition show and I find it quite amazing to watch the blade-smiths turn a chunk of random metal into a fully-functioning knife.
FBI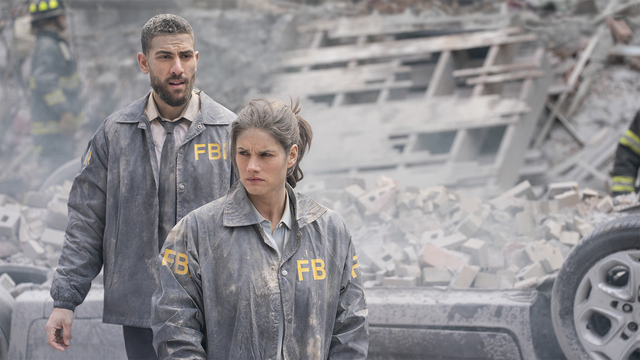 Full disclosure: I'm a big Missy Peregrym fan and was crushed when Rookie Blue ended. Kyle was actually the one who told me that she'd be starring in this new series, so I obviously jumped on board. The pilot episode of the series was ridiculously good, and so far I'm really digging it and hope it lasts long. It doesn't hurt that Dick Wolf is behind the series either; if you look at his track record with the various Law & Order series FBI's success should be a no-brainer. This is actually the only new show I've picked up this fall, actually, which isn't bad considering how many new shows have launched this fall.
What I'm NOT Watching
Like I mentioned, I nearly ditched The Big Bang Theory, but I did hit "Cancel Series" on Dancing with the Stars. None of the celebrities really piqued my interest for this season, so I didn't feel compelled to dedicate 3 hours of my life to the show every week. I was also a little saddened to see that LA to Vegas was cancelled, although I'm not overly surprised. I had intended on switching Big Bang out for this comedy, but oh well.
Oh yes, I should also mention that I picked up Santa Clarita Diet on Netflix during the summer and really enjoyed it. At first I wasn't sure where it was going after the first season, but it's moved forward quite nicely. It's an easy and funny show to watch while I'm eating lunch or taking a break from studying.
What are YOU watching (or not watching) this fall?