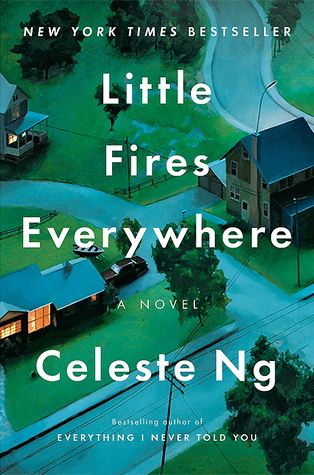 From the book jacket:
In Shaker Heights, a placid, progressive suburb of Cleveland, everything is meticulously planned – from the layout of the winding roads, to the colours of the houses, to the successful lives its residents will go on to lead. And no one embodies this spirit more than Elena Richardson, whose guiding principle is playing by the rules.
Enter Mia Warren – an enigmatic artist and single mother – who arrives in this idyllic bubble with her teenage daughter Pearl, and rents a house from the Richardsons. Soon Mia and Pearl become more than just tenants: all four Richardson children are drawn to the alluring mother-daughter pair. But Mia carries with her a mysterious past, and a disregard for the rules that threatens to upend this carefully ordered community.
When the Richardsons' friends attempt to adopt a Chinese-American baby, a custody battle erupts that dramatically divides the town and puts Mia and Mrs. Richardson on opposing sides. Suspicious of Mia and her motives, Mrs. Richardson becomes determined to uncover the secrets in Mia's past. But her obsession will come at unexpected and devastating costs to her own family – and Mia's.
Little Fires Everywhere explores the weight of long-held secrets and the ferocious pull of motherhood-and the danger of believing that planning and following the rules can avert disaster, or heartbreak.
My review:
Little Fires Everywhere is the first novel I've read by Celeste Ng, and I was really confused at first when she the story started at the end, but it ended up being a brilliant way to keep me intrigued and wanting to read more.
I really loved how even in the most "perfect" community – one where everything is precise and planned – people have their secrets, their flaws. Even Mrs. Richardson bends the ethical guidelines of her and her friend's profession.
Then there's the controversy in the story between the McCullough's and Bebe, which really made you think about your own morals and what is right and wrong. Should do-overs, per-say, be allowed in such instances? I also had to keep reminding myself that this was a different decade that this was all occurring it, so I'm certain that this had a lot to do with the outcome. I do wonder if Mia felt compelled to help Bebe because she felt guilty of her own actions all those years ago … Whatever the reason, I was disappointed in Mia's actions towards the Ryans and feel bad for Pearl not knowing the true reason behind their nomadic lifestyle.
That being said, I did appreciate Mia's compassion towards the Richardson children, not judging them even in their darkest moments. Growing up in a "perfect" community, I imagine, could be hard on any person, especially when it doesn't allow you to be who you truly are. (Like Izzy, for example.)
I also felt bad for Moody. He befriended Pearl and she did nothing but deceit him after falling for his older brother. Moody was perhaps the only character in the story who wasn't being selfish; even Izzy was selfish in a sense by wanted to keep Mia all to herself.
I think I would have given Little Fires Everywhere five stars, but I was a little disappointed in the actual ending of the book. I was hoping for a bit of reunion between Mia and her family, some answers owed to the Ryans. Maybe I'll get lucky and there will be a sequel.
My rating: ★★★★½ / 5