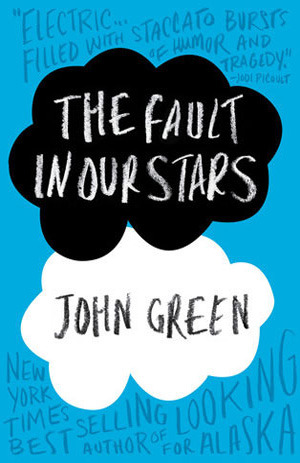 From Goodreads.com:
Despite the tumor-shrinking medical miracle that has bought her a few years, Hazel has never been anything but terminal, her final chapter inscribed upon diagnosis. But when a gorgeous plot twist named Augustus Waters suddenly appears at Cancer Kid Support Group, Hazel's story is about to be completely rewritten.
My review:
What can I say about this book?
I picked it up after hearing much hype about both it and the movie. A firm believer in reading the books before watching the movie, I decided to put The Fault in Our Stars on my "Must Read" list.
I dove into it head first, expecting to feel all the feels and be sobbing by the end.
But let me just rewind a little bit and say that I did really enjoy reading this book. Hazel, while only 17, speaks so eloquently and so wisely; which is really not at all surprising. What else do you expect of a teenager who has had her days numbered by cancer? If there's one thing I've learned about cancer, it's that it not only makes you live life to the fullest, but also makes you grow up faster.
That's not to say that Hazel doesn't enjoy being a teenager. I really appreciate that John Green not only made Hazel wise beyond her years, but threw in hints of teenager behaviour as well, such as her love for America's Next Top Model. And that just wasn't with Hazel, but with other characters as well. There's overreaction to breakups, trips to the mall and the likes.
Hazel and Augustus to me, almost felt like they were the same person. They spoke the same way, had the same feelings about certain things, both had cancer … but I suppose that's why they were meant to be together.
Back again to what I liked about the book: Hazel and Augustus' story of love is truly amazing, and knowing that yes, it's possible to find love regardless of what your life's situation may be is inspiring. I think I read the whole thing in about 3 hours (Over the course of a couple days, that is. Having a toddler really cuts into your reading time!)
But did it make me sob like a lost soul? Well, no. Perhaps it was the hype behind it, but I was expecting it to be gut wrenching and that I'd be reaching for the Kleenex more times than not. I feel a little guilty for not shedding a single tear, after all, it's a story about kids with cancer, for cryin' out loud. I'm sure if/when I watch the movie it will be a whole different story and I'll bawl my eyes out, but the book just didn't push me to that emotional level.
Still, I'm going to give The Fault in Our Stars 4.5 Stars out of 5. It was super intriguing and not just a book about some kids with cancer. I loved the characters and the message that their journey sent out.
Have you read this book? What did you think??