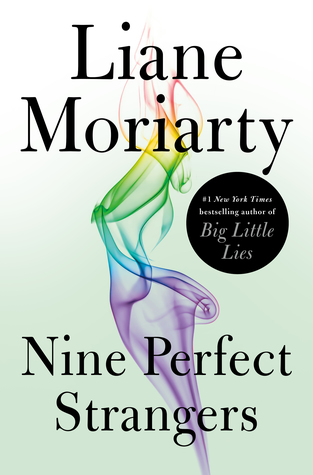 From the book jacket:
Could ten days at a health resort really change you forever? In Liane Moriarty's latest page-turner, nine perfect strangers are about to find out…
Nine people gather at a remote health resort. Some are here to lose weight, some are here to get a reboot on life, some are here for reasons they can't even admit to themselves. Amidst all of the luxury and pampering, the mindfulness and meditation, they know these ten days might involve some real work. But none of them could imagine just how challenging the next ten days are going to be.
Frances Welty, the formerly best-selling romantic novelist, arrives at Tranquillum House nursing a bad back, a broken heart, and an exquisitely painful paper cut. She's immediately intrigued by her fellow guests. Most of them don't look to be in need of a health resort at all. But the person that intrigues her most is the strange and charismatic owner/director of Tranquillum House. Could this person really have the answers Frances didn't even know she was seeking? Should Frances put aside her doubts and immerse herself in everything Tranquillum House has to offer – or should she run while she still can?
It's not long before every guest at Tranquillum House is asking exactly the same question.
Combining all of the hallmarks that have made her writing a go-to for anyone looking for wickedly smart, page-turning fiction that will make you laugh and gasp, Liane Moriarty's Nine Perfect Strangers once again shows why she is a master of her craft.
My review:
While it started off a little slow for my liking, I really enjoyed the eventual build-up to knowing who all the characters are fully. It kept me reading and wanting more, to say the least!
Nine Perfect Strangers, in a nutshell, is a bit all over the place, but I think that really reflects the characters. Masha, is absolutely bonkers, and I was always curious to see what crazy tangent she would go on next.
The rest of the characters were all relatable in some way: Jessica being obsessed with social media and her appearance, Tony longing for what once was, Frances feeling heartbroken after being duped, Carmel just trying to survive as a single mom … In ways I felt sympathy for them and at times they frustrated me. (Like Napoleon the Coddler, for example.)
Over all, I kind of liked the ridiculousness of the story and Tranquillum House. I mean, there's health resorts, and then there's this place! I think Moriarty took the worst aspects of every health resort/spa in the world and applied them all to this one place. It was a little over the top in a way, but sometimes I don't mind a little absurdity. I also really enjoyed that we got little glimpses of what happened to everyone post-Masha's craziness. I hate how so many storylines just end and you don't get to know what happened afterwards.
My rating: ★★★★/5