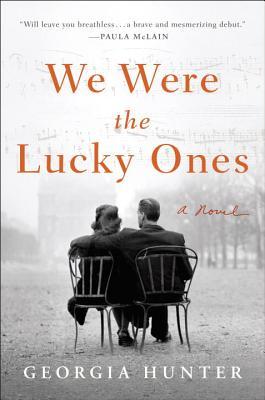 From the book jacket:
It is the spring of 1939 and three generations of the Kurc family are doing their best to live normal lives, even as the shadow of war grows closer. The talk around the family Seder table is of new babies and budding romance, not of the increasing hardships threatening Jews in their hometown of Radom, Poland. But soon the horrors overtaking Europe will become inescapable and the Kurcs will be flung to the far corners of the world, each desperately trying to navigate his or her own path to safety. 
As one sibling is forced into exile, another attempts to flee the continent, while others struggle to escape certain death, either by working grueling hours on empty stomachs in the factories of the ghetto or by hiding as gentiles in plain sight. Driven by an unwavering will to survive and by the fear that they may never see one another again, the Kurcs must rely on hope, ingenuity, and inner strength to persevere. 
An extraordinary, propulsive novel, We Were the Lucky Ones demonstrates how in the face of the twentieth century's darkest moment, the human spirit can endure and even thrive.
My review:
Up until I read the author's notes about the story, I was leaning hard towards giving We Were the Lucky Ones four stars. There was a LOT going on; between the number of characters, the numerous events, and variety of locations, it was hard to keep track at times.
That's not to say that I didn't admire the characters' resilience during such a terrifying time in their lives. I found myself reading page after page just to find out what would happen to each of them. I don't often find myself tearing up over books but there were definitely moments in this one that made me reach for the tissues, not out of sorrow but joy. I definitely wanted the world for the Kurcs but knowing the harrowing time I didn't ever get my hopes up and always prepared my heart for the worst.
At times I found it all to be a little unbelievable, I mean, the title of the book kind of gives everything away, but then I read the author's notes and my opinion was changed. It definitely deserved one more star, perhaps not for the writing but for the amazing journey Hunter took in collecting every bit and piece of information to put the story together. We Are the Lucky Ones is truly a family story worth passing down through every generation.
My rating: ★★★★★/5