From the book jacket: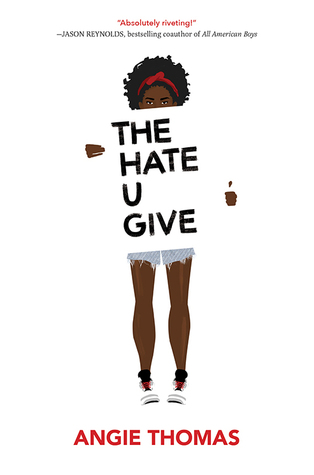 Sixteen-year-old Starr Carter moves between two worlds: the poor neighborhood where she lives and the fancy suburban prep school she attends. The uneasy balance between these worlds is shattered when Starr witnesses the fatal shooting of her childhood best friend Khalil at the hands of a police officer. Khalil was unarmed.
Soon afterward, his death is a national headline. Some are calling him a thug, maybe even a drug dealer and a gangbanger. Protesters are taking to the streets in Khalil's name. Some cops and the local drug lord try to intimidate Starr and her family. What everyone wants to know is: what really went down that night? And the only person alive who can answer that is Starr.
But what Starr does or does not say could upend her community. It could also endanger her life.
My review:
I'm probably late catching the hype train for this book, but I finally had the chance to read it after hearing rave reviews and I'm glad I took the time to do so.
The Hate U Give covers an important issue in our world today – racism, but more specifically, police brutality. The book jacket breaks down the plot of the story in a pretty clear manner, and there's no specific sub-plot or drastic twists and turns to the story. Still, I think it's an important read for the YA audience it was intended for, and it opens your eyes in sense. While fictional, Starr stands for every person seeking justice for a wrongful death. She stands for every teenager just trying to fit in and figure out who she is. Her situation is the situation of many of the minorities living all over the world. When Starr was angry, I was angry, and reading her story made me open my eyes and think a bit harder about the bigger picture.
Politics aside, I really did enjoy this book although various scenes were a bit predicable. On the other hand, I also wonder if the predicability and stereotypes were used on purpose by the author to emphasize how brainwashed we almost are to how we view other races and cultures. I also wonder if they were used in such a way to make it easier for the YA demographic to understand and see. These are deep thoughts, people.
So, based on that theory, I'm giving The Hate U Give 4.5 stars out of 5. It's still an important read and makes to think hard about who you are as a person and where you stand in society.
Side note: It will be interesting to see how this is receipted once it hits theatres in the fall. I'm not 100% sure I'll go out and watch it in theatre, but I'm curious to see how they adapted it. From the trailer, it seems pretty true to the book.